Well look at that... I took a super huge break from blogging. Woopsies! I hope everyone had a nice long weekend, I am currently watching Surprise Homecoming, a show purely devised to make me bawl my eyes out for an entire sixty minutes. I enjoy the families explaining about their lives and the actual moment when they surprise their loved ones, but some of the show is pretty hokey with how they film it. Despite my big break, I have been rather busy with sewing myself a new skirt! I finished it up today and I am pretty happy with how it turned out. I will try to get some photos of me in it tomorrow! Hopefully the weather will stay nice enough for me to be able to go swimming finally! I also plan on baking a whole bunch of recipes starting tomorrow, I have some yummy chocolate chip cookie dough truffles planned along with peanut butter cookies. To finish the week out I will also try out an ice cream recipe, but I will keep the flavor a surprise! Just remember to check back throughout the week to see how they all turn out and to get the recipe. : )
I believe that these walls are featured in a Lilly Pulitzer store, but I find the concept quite charming. I think doing something like this in a small space such as a bathroom would be very interesting and fun!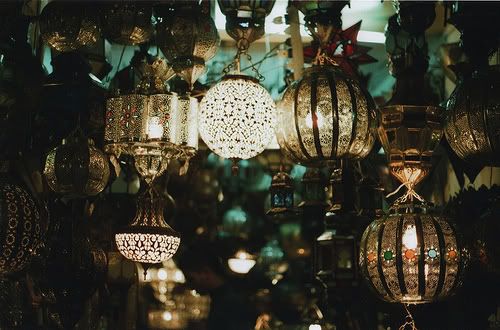 I am in love with all of these lamps. I would be happy to have any one of them, or maybe them all!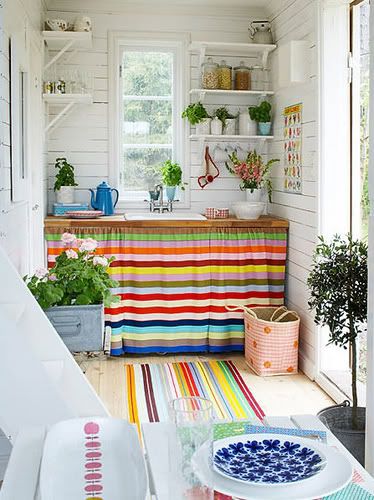 I am not sure if I ever will be able to leave a wall in my house completely white, never less an entire room, but the design of this (kitchen? washroom? laundry room?) is amazing. I am particularly enjoying the rainbow of colors brought in through the fabrics.
I love the little gate, the huge windows, the shade of green and all of the landscaping on this home.
A rather simple diy project, these antique drawers fit in quite nicely with the modern lines of the shelves. I would really like to have this on a larger scale as a dresser in my bedroom.
These stairs are way too cool. I am just thinking of all of the creeky wooden steps I have had the pleasure of slipping on at college. If I ever lived in a home where there are steps like this, I would have to paint them and put one of my favorite quotes on them.
I really love the color on these walls, but the most striking element is the natural canopy bed created by the lights. I would love to do this over my bed at home.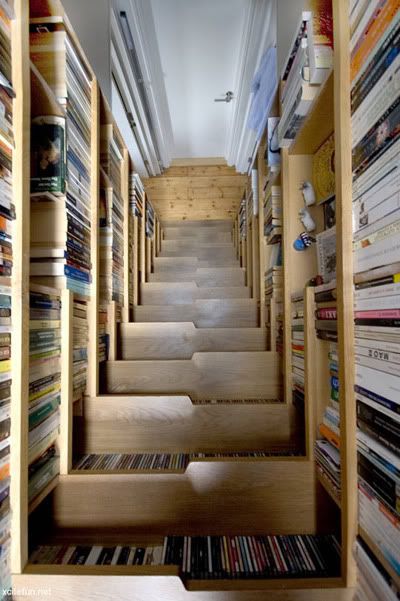 Bookshelves! I will never get enough of them, and by mixing them with stairs I can find another way to get more books into my home.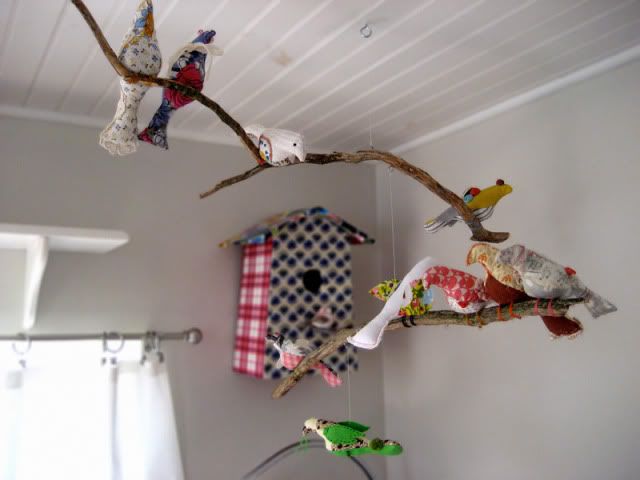 I don't have any children yet, nor do I plan to for a while, but I love this mobile. I wonder how difficult it would be to make this?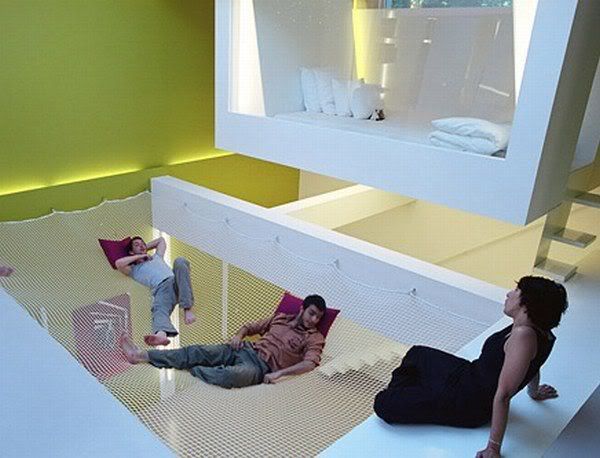 And the grand finale, this is from some majorly cool office. I really like the idea of being able to just lounge around on indoor hammocks, but this also frightens me with how people can just walk around beneath them. Thank goodness that the woman in the skirt is sitting on the side. : )